DJ PUSHKIN
NEW YORK
FLORIDA
Photo and Video Service for Weddings in New York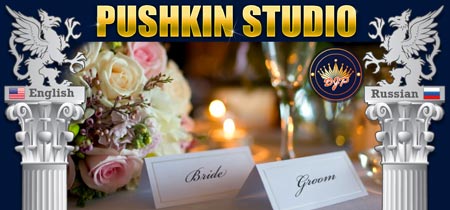 Go directly to Pushkin Studio. All the information below is available there + videos.
Pushkin Studio is a team of professional photographers and videographers who specialize in luxury Weddings. We offer high-end photo and video services and guarantee quality. We own and are trained with the newest and most innovative technology; our top-notch cameras, lenses, and accessories are put to use to make your wedding look like a cinematic adventure resembling that of a Hollywood blockbuster.
Alex Pushkin owns and operates Pushkin Studio and personally has over 15 years of experience in the wedding industry as a DJ and cinematographer.
The elegance of your wedding photos deserves to be kept in a stylish album, and our services offer just that. Pushkin Studio has an exclusive contract with a professional print shop in Milan, who has teamed up with a famous Italian designer that produces high-quality leather covers for photo albums. Traditional print shops use standard, bland photo albums. We here at Pushkin Studio know that photos from your special day should be stored in a glamorous and luxurious album. Go out and search through the droves of tasteless albums, we are confident that the design we offer will rival anything on the market.
Pushkin Studio's shooting techniques, and experience in professional video production equipment means that your wedding will be captured in all of its beauty.
We are always trying to improve our Wedding films. That's why we're now exclusively using Canon's new DSLR cameras, the EOS 5D Mark II. It is agreed by many of today's top directors like James Cameron, Martin Scorsese, and Quentin Tarantino that the 5D Mark II produces the best looking footage out of all HD Video Cameras under $200k.
More and more Directors, Hollywood Studios, and National TV Networks are adapting these new cameras for their productions. In fact, the season finale of the popular TV show House, which was aired on May 17th, 2010 on FOX was filmed entirely on the Canon 5D Mark II.
The Canon 5D Mark II has a Full Frame, 36mm image sensor and is a 21MP camera that shoots Full HD 1080P video at 24 frames per second. These are standard specifications for most multi-million dollar Hollywood productions. This big size image sensor produces a cinema style, artistic, shallow depth of field, where the subject in focus and the background is blurred. The camera uses interchangeable lenses that increase the quality even further. Optics play a big role in video production, and Pushkin Studio takes a great pride in the lens collection that it owns.
The look is one thing, but we are also committed to maintaining high-quality production values. Not only do we use top of the line cameras, we also have a Crane and Steadicam to use at our disposal, guaranteeing a cinematic feel to your wedding video. We can give you variety in angles and movements, having everything from the camera fly over the heads of your guests to a smooth shot down the aisle as the bride approaches the groom. With our tools, we can capture every element of your wedding; with the ability to have shots go from the chandelier to the floor, or have the camera fly form one corner of the room to another, we can capture it in style. Our Steadicam gives the ability to make traditional shots smoother, adding to the stabilized feel of the video. It's your wedding, and we don't want to limit you in any way. Traditional tripods and dolly shots are limiting, with our gear we can get up close and personal, while maintaining great looking footage. All of the technology we have is used to increase the quality of the production, guaranteeing a great-looking video for you, our client. We know where the world of cinematography is going, and use that to our advantage to offer you true beauty of your wedding.
Feel free to contact Alex to set up an appointment. Come and check out our exclusive Italian Designer Genuine Leather Wedding Photo Albums and see previous of Wedding Videos we have produced in Full HD on our 50″ display. We are conveniently located in Sheepshead Bay part of Brooklyn and would love to meet you and create a customized package for your Wedding Day!
Alex Pushkin
Posted in
Weddings
Tags:
Blu-Ray Crane
,
Cimema Crane
,
Crane Video
,
HD Crane
,
Italian Designer Wedding Album
,
Video Studio Brooklyn
,
Wedding Crane
,
Wedding Photo
,
Wedding Photo Brooklyn
,
Wedding Photo New York
,
Wedding Photo Video Brooklyn
,
Wedding Photo Video Studio
,
Wedding Steadicam
,
Wedding Video
,
Wedding Video Brooklyn
,
Wedding Video New York